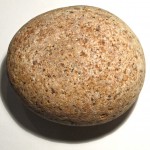 It all started with a rock or two.  Or I should say a blog (but I can't remember which one – sorry!), and then the rocks.  I dragged in a bucket of rocks that I have collected in my travels (weightlifting 101), which were not fossils BUT formed the start of these wonderful dinosaurs.
I had each student choose a rock, and then trace around it onto cardstock.  This was the body of the dinosaur, and then I directed them to add details in pencil such as a head and neck and tail, and even spikes and teeth as they liked.  THESE are dinosaurs from their own imagination!  Are they carnivores with teeth, herbivores with long necks, or how about that rather well-adjusted fellow, the omnivore?
The legs were up to me.  I had a template for each student to cut out, which would function as the stand for each dinosaur.  They could decide if they wanted one or two.
Now it was time to get busy with the paint!  They had three things to paint: their dinosaur (both sides, please), the legs, and a base which would be the environment one would most likely to find their dinosaur in.  Always good to know where those dinosaurs are at.
While the paint was wet, I brought out a bucket of odd bits and pieces to make textures in the paint: plastic netting, combs, spiral bindings , corks, forks (STUFF).  Paint was dried by an enthusiastic Jamie proudly bearing the hair dryer, and then it was time for a couple of small details with Sharpie marker (love those).  They glued the cardstock base to corrugated cardboard for stability, and then I hot glued each dinosaur to the base and the body to the slit in the legs, as each student gave me direction to position.  Ta da!
I think these are fabulous;  the rich paint textures are juicy, and the resulting gestures so FUN.  Good work, Grade 1/2's!  (duration:  3 classes, the first being a double)
Winter 2012 / Parliament Oak School