Grade 7/8:  Using Wire and Nylon to Create Free-form Sculpture
After seeing this project on several websites, I decided to give it a go with one of my smaller classes.  It also seemed like an excellent way to introduce them to some famous sculptors and their work.
To begin with, we approached from the technical point of view.   We bent wire coat hangers (after cutting off the hooks), and I showed them how shapes both positive and negative emerge when they stretched a nylon stocking over the wire.  I supplied them with predrilled blocks of wood to serve as bases.  I drilled more holes than they could use, and countersunk them at the bottom to accommodate a bend in the wire and hot glue to hold them in place.  Having extra holes mean they can make artistic choices in positioning the forms.
I must say there was some hilarity in handling the stockings, especially among the boys!  (some of them borrowed the extra bits, and were later seen in the halls with nylons on their heads – yoiks)
We stretched the nylon right over the base block across the bottom and hot glued it in place.  The next step was to paint over the entire nylon surface with several coats of latex primer/housepaint until no longer porous.
This took two single classes to complete.  On the third, I introduced them to these different sculptors and their work:
HENRY MOORE          JOAN MIRO         JEAN DUBUFFET         BRUCE HEAD
As needed, they could sketch out some ideas for the surface treatment of their sculptures in the style of one of these artists.  Then it was time to break out the paint!  I continued to encourage them to refer to the images of the sculptors' work in front of them.  One student did not complete as he was injured (not in Art class) and missed; another decided that her own penchant for all things Spiderman took precedence.  Her interest and enthusiasm for the project would have quickly dissipated had I imposed my directive, so I went with it.   As they all rather like to chat along the way, this took several more classes to complete.  However, I think it was their favourite project of the year!   The resulting sculptures got quite a bit of attention.  What do you think?  Remember, you can click on an image to see it larger.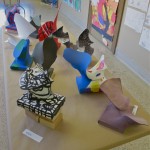 Spring 2013 / Parliament Oak Elementary