September 21 was the International Day of Peace.  I came across the website "Pinwheels  for Peace" – too late to register BUT not too late to do it, even unofficially.
And you know what?  The grade 3/4 class at Parliament Oak school were more than happy to join in on it.  I used their template for the pinwheels, but threw in an arty twist.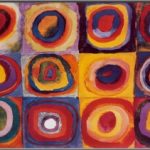 Kandinsky circles, of course!
I gave them a quick intro and demonstration of concentric coloured circles in a square.  They used markers to render saturated coloured circles on one side.  On the other side, I had them write and draw their ideas of what peace means to them in pencil crayon.  After that, we assembled the pinwheels – using pipe cleaners, beads and straws.
Then we assembled on the front lawn, with enough breeze to make the pinwheels go…
P-E-A-C-E.
September 2013  Parliament Oak School
www.pinwheelsforpeace.com