Grade 6:   Still Life Paintings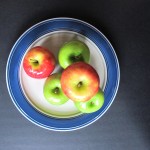 Time to try out some watercolour painting?  There was some positive anticipation to be had for this one!  I composed several still life variations using apples on a plate, photographed them, and made the resulting images available to the students.  I gave them their choice of photographs, we stretched out the watercolour paper on boards, and then they commenced drawing out the compositions lightly in pencil.
I demonstrated some basic watercolour techniques – with several reminders to remember the importance of water in watercolours…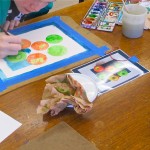 As with most new techniques, there were mixed reviews on the results – the reality does not always jibe with the imagination.  But, with some distance of waiting to view them until the next class, and the encouragement of the teacher and I, they became more satisfied with their efforts.  Besides, they look pretty good against the black background of the hall bulletin board, now that they are up there!
Thanks again to the art website "Use Your Coloured Pencils" for another good idea.  You rock.
Parliament Oak School / Spring 2013