Grade 6:  Drawing Blind Contour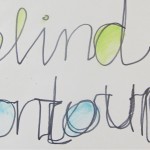 I wish you could have seen the kids' faces … I told them we were going to do some drawing BUT they had to do it in one continuous line (NOT lifting the pen from the page) and that they could not look at the page (not even once) while they were drawing.
A couple of students remembered doing this sometime somewhere else, but for most it was a totally new thing.  I demonstrated what I meant by drawing my own hand.  They laughed at my drawing, but wait.  Their turn. Haul out the Sharpie markers and the newsprint, and take a close look at their non-drawing hand.  One, two, three – go!
As they looked at the details, I instructed them to have their pen follow their gaze as they examined the outline of their hand and the details within (don't forget those fingernails and knuckles), and don't lift the pen until they stopped.  More laughter ensued, and I knew this was a good exercise.
We then carried on with drawing a partner's face in the same method.  I talked about the how's:  drawing not what they thought a face should be, but what they actually saw as their eyes travelled across the facial features and details of the hair.  For some, this was a stretch.  For some, the discipline of not looking was too much.  I think you can tell where true blind contour happened and where it did not.  Still, definitely a good lesson in drawing and loosening up.
Fall 2012 / Parliament Oak