Grade 5/6:  Andy Warhol Hand Prints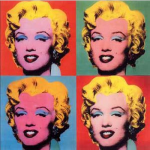 Another one-time art visit with a class (such a different way to work!), giving them a quick opportunity to kick it on the arty side of things … I introduced them to Andy Warhol and Marilyn Monroe, of course.
Bright, bold colours and a literal touch of themselves in it made this a winner of an art project.  Having come from a recent debacle with some grade 8's in my regular school (girls deciding to paint each other's faces before I put a stop to it), I was a bit nervous about what would happen when I got these students to roll their hands with black paint for printing.
They were awesome!  (way to go, Prince of Wales) So,  I brought in the brightest paper I could find.  They could choose whatever two colours they liked, with an eye to the colours contrasting one another.  They needed 6 or 8 pages each, depending on how large their hands were.
The idea? Trace around each of their hands twice – in both of the contrasting colours.  I strongly suggested they do this with their fingers splayed out – makes for a much more interesting interaction of colour later.  It was a little awkward when they had to wield the pencil in their non-writing hand.  They cut these out as carefully as they could – a few had some difficulty with the cutting.  One girl had her arm in a cast, so she had a school mate help her.  On one of the backgrounds, I had them write their names over and over across what would be still seen once the hand cutout was placed.  I had them print this in a similar colour to that page in pencil crayon, so it would read more as texture, not taking away from the bold graphics of the hand foursome.  In part, this was a ploy to keep them occupied (especially those speedy types) as I helped others.
Following my example artwork, I had them glue down their paper hands on the pages that were the opposite colour, centering at the bottom of the page, so they almost looked like windows with hands stretching up from below.   Then they glued the four pages onto a single sheet of backing paper, placing the contrasting backgrounds diagonal to each other.
Not quite done yet!  I manned the printing station at the front of the class then.  (If I had known the classroom teacher, I would have had him do the same to make that step quicker.  However, this gave me the opportunity to check in with each one, and encourage them individually.)  I rolled each of their hands twice with black paint to lay a handprint right on top of  the corresponding hands on each page.  They LOVED that!  For one, it is such a weird sensation to have one's hand rolled with slippery wet black.  When they laid it down, well, the artwork suddenly kicked!  (if I do say so myself)
And no shenanigans.  I was impressed.
I know there are a lot of images here, but I promised them I would post them all – even though I am doing it so much later. (busy times in between)
Spring 2013 / Prince of Wales School
Thanks to Kathy Barbro at www.artprojectsforkids.org  and Erin at www.laughpaintcreate.blogspot.ca for the ideas on this one.  Awesome!