Grade 5 Line Project/Exhalation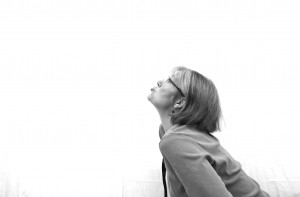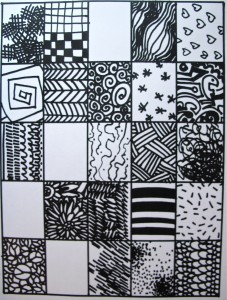 About the same time as the Grade 6's at St. Michael were wielding umbrellas, I had this class pantomime blowing/spewing/singing/laughing/calling:  exhalations!  As with the other class, I photographed them in two different poses, suggesting they think about the character of what they were portraying, for that would translate into the mark making they might use.
The photos were enlarged and photocopied, and then I set them to work.  They were each given a partially completed line template – ideas for different lines/doodles or even graffitti.  I had them fill in the blanks with their own ideas, and then set that aside as a possible 'bank' of ideas.
If one could see the lines or shapes coming out when a person shouts or even whispers, or vomits  (some of the boys went quickly to that), what would it look like?  Would the lines be curvy or angular and darkly rendered?  What might a song look like?  What colours might there be?
May I say that they LOVED this?!  Armed with Sharpie markers, one drawing was to be black & white, and the other coloured.  It was sooo interesting to see the different ways they took it, and how students working at some tables influenced each other.  One student is blind, and she and her assistant came armed with sticky-backed foam sheets to be cut and strips of plastic puncheed in Braille.  When I asked her what was written, she told me they were describing her family: lovely!  Some of the girls around her took a liking to the foam sheets, and incorporated some into their own pictures.  I loved the moment when Emily asked Julia what she thought of Emily's drawing, and after investigating it with her hands, Julia pronounced it "Good!"
These caught the attention of many students that visited the Art Room in the weeks following – I think they were wishing they had had the chance to do this project in their classes too!
PS>  With the exception of my own son's work, I have cropped the finished pieces to protect the identities of the students.