Grade 4/5:  Paper Mache Masks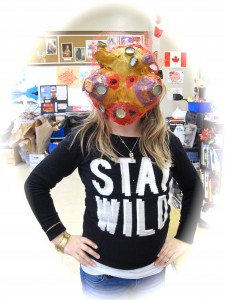 This is small class, and they are game for new challenges.  So, we decided to go with making masks – animal masks out of paper mache.  Why not?
In fact, to tie in with their studies in environmental issues, they could choose an animal and then think of ways and reasons that animal might adapt to changes in their natural habitat.  Their teacher assigned them some writing to document the changes, and I encouraged them to come up with a sketch to illustrate.
Now it was time to get messy.  We began with aluminum foil.  Partners were assigned to cover each other's face, in turn. By pressing the foil down onto the face, and piercing the nostril holes with a Q-tip, we were able to make a rudimentary cast of their features.  These were carefully filled with moistened newspaper, and the taped down to a square of corrugated cardboard.  This would provide the base for the mask, making it one that would fit onto their own faces.  Not exact, but enough to make it work loosely.
Before any paper mache –  time to add extensions and other features to define their animal morphing.  I encouraged them to get creative with that and to exaggerate the details.  Larger than life!
When the paper mache dried, they went on to painting and/or attaching found objects.  The interior of the masks were sanded for comfort, and holes drilled for the eyes and the headband straps.  We used ribbed sewing elastic to hold the masks tight.
They were pleased with the results, and I think they did quite well …
Fall 2013 / Parliament Oak Elementary School