Grade 2/3:   A 3-Step Method for Space Pictures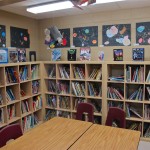 We have a Canadian in space, blogging daily – so why not do a project that puts us there?
(Sort of.)
Class 1.
After a brief introduction that got them thinking about things astronomical (stars near and far, names of the planets, and basic perspective: objects that are big are closer to us than those that appear smaller), augmented with photographs – they were pumped!
I gave them a big sheet of white paper each, pencil crayons, and had them draw/colour at least 4 or 5 planets with their distinguishing characteristics.  They would have to decide which planets their picture view would be closer to … jupiter might not necessarily be the biggest.  The white page was not the final project, as the planets were to be cut out after they were all drawn.
While they were working on their drawings of planets, we pulled them aside one or two at a time to do another part.  With large pieces of black construction paper and our homemade 'spray booth' – time for some stars.  Old toothbrushes work great to spray stars over the black paper.  White, silver, and gold paint were applied by shaking or running their finger over the brush (bristles pointed down!).  The pages looked great – right away.
Class 2.
We continued with colouring and cutting out their planets, and doing their black page of stars at the spray booth.  Really good to have a hair dryer at this point.  Some students were even ready to begin their rocket ships.  I brought in various pictures of such – everything from Challenger to satellites and the space station to those iconic cigar-shaped space ships sporting big porthole windows – that should fire their imaginations.
The space ships were drawn on recycled boxboard, and any details were to be added with more boxboard glued on for a low relief.  The students seemed to be enjoying working on all the parts of this project; one of the strengths of it, I think.
Class 3.
Time to put it all together, then!  Planets to be finished, the page of stars well dried, and rockets ships glued together and then painted in gold or silver.  Out came the hair dryers to make the rockets ready, and they glued their planets onto the black star page.  Final addition, of course – rockets away!
Great results they were so proud of … me too.
3 Double Classes
Parliament Oak & Ferndale Schools / Winter 2013