Grade 3:   Recycled Paper Collages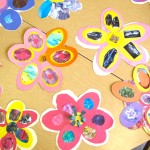 We painted the paper, we blow dried the paper, we cut the paper, we added more paper, we glued the paper, and we cut and glued more paper – and look what we got!
Happy flowers and happy butterflies.
Happy class!
Spring 2013 / Prince of Wales School
The enthusiasm in the class that day was AWESOME.  Way to go!